Review & Practice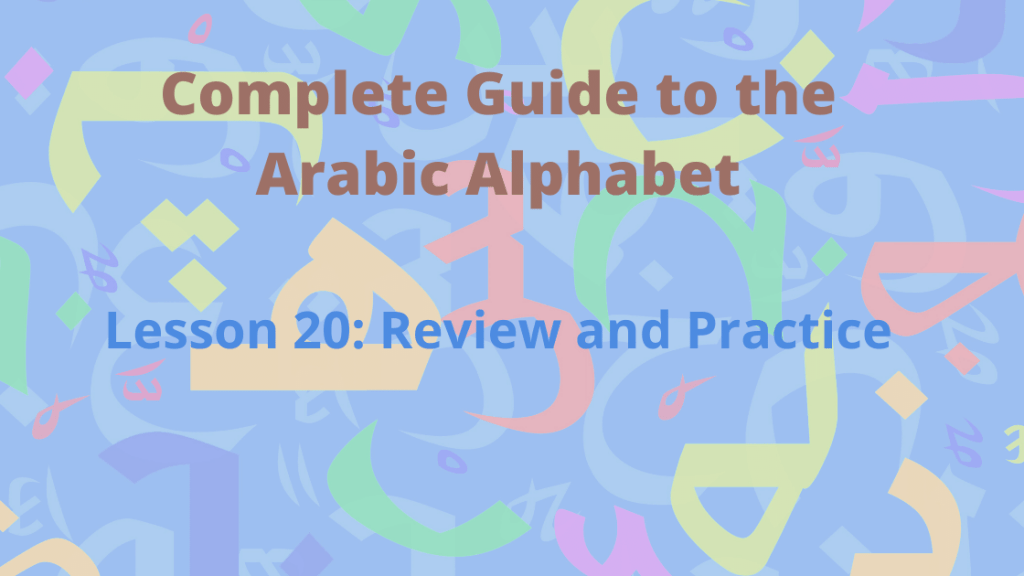 How many letters does the Arabic alphabet have?
Sometimes letters have the exact same body. So how do you tell them apart?
Can you group the letters that have the same body?
How can you tell the difference between ر and و?
Aleph is just a straight line. What other letters have straight lines as part of their body?
There are 5 letters that look exactly the same except for their dots. But they look the same only in the beginning and middle of a sequence. What are these 5 letters?
What is the only letter that has a squiggle instead of dots?
Which letters don't connect to the letter that follows them? You MUST lift your pen even if it's in the same word.
Is Arabic script more like handwriting / cursive or more like printing?
Why are there 4 forms for each letter?
Are there different ways of writing each letter? Like different scripts or something?
What are some letters that don't look exactly the same but might still be confusing to differentiate when reading?
Which letters have bumps in their body that you might confuse for the bumps of ب ت ث?
How many vowels does Arabic have?
How do you represent vowels in writing?
Can an Arabic word ever start with a Saakin letter?
What are long vowels in Arabic?
Are Aleph, Waw and Yaa used as consonants and long vowels, and nothing else?
How do you know which function a Waw or Yaa is performing?
What are the different ways a Hamza can be written?
When a Yaa has no dots, what could this mean?
What is this letter: ة?
How many letters are in the word دَبَّ?
What vowel is on the Baa in the word دَبِّ?
When you write the letter ص or ض, where does your pen start from?
When you write the letter م, where does your pen start from?
Can you write the letter ط without lifting your pen?
Dictation:
| | | | | | | | | | | |
| --- | --- | --- | --- | --- | --- | --- | --- | --- | --- | --- |
| 1 | | | 6 | | | 11 | | | 16 | |
| 2 | | | 7 | | | 12 | | | 17 | |
| 3 | | | 8 | | | 13 | | | 18 | |
| 4 | | | 9 | | | 14 | | | 19 | |
| 5 | | | 10 | | | 15 | | | 20 | |
Reading: